2021 PH-EITI Validation Dossier
Name of Document
Document Type
Download
Executive Order No. 79
Laws and Issuances
View
Executive Order No. 147
Laws and Issuances
View
DENR Department Administrative Order 2017-07
Laws and Issuances
View
Open Data Policy (2016)
Laws and Issuances
View
House Bill 6005
Laws and Issuances
View
House Bills 1691
Laws and Issuances
View
Senate Bill 1489
Laws and Issuances
View
Senate Bill 349
Laws and Issuances
View
Updated Philippine Development Plan 2017 - 2022
Laws and Issuances
View
Memorandum on Incorporation of the Natural Resources Mining and Development Corporation Under the Department of Environment and Natural Resources
Laws and Issuances
View
Participatory Governance Cluster Performance and Projects Roadmap (PGC-PPR) 2017-2022
Laws and Issuances
View
Draft JMC - Guidelines for the review, adjustment, setting and/or adoption of reasonable regulatory fees and user charges for LGUs
Laws and Issuances
View
Open Government Partnership National Action Plan (OGP NAP) 2017 - 2019
Laws and Issuances
View
Open Government Partnership National Action Plan (OGP NAP) 2019 - 2022
Laws and Issuances
View
Open Government Partnership Revised National Action Plan (OGP NAP) 2019 - 2022
Laws and Issuances
View
Draft DOE Circular Mandating PSCs and COCs to Participate in PH-EITI
Laws and Issuances
View
National Budget Circular 580
Laws and Issuances
View
NCIP En Banc Resolution No.06-033-2015 - NCIP Monitoring Tool
Laws and Issuances
View
MSG Terms of Reference
Organizational Document
View
PH-EITI Internal Rules
Organizational Document
View
PH-EITI Oil & Gas Industry MSG Nominee Qualification Requirements and Selection Process
Organizational Document
View
Work Plans
Organizational Document
View
Sixth Report Contextual Writer Terms of Reference
Organizational Document
View
Sixth Report Reconciliation Consultant Terms of Reference
Organizational Document
View
Legislative Advocacy Work Plan
Organizational Document
View
DOF Department Personnel Order No. 0692017 & 1302019
Organizational Document
View
2021 Gender Initiatives Work Plan
Organizational Document
View
DENR-MGB Membership Confirmation Letter to PH-EITI
Organizational Document
View
DOE - Membership Confirmation Letter to PH-EITI
Organizational Document
View
DILG Department Order No. 2020-184
Organizational Document
View
DILG Organizational Structure
Organizational Document
View
DOE Sample Letter to Service Contractors
Organizational Document
View
MSG CSO Selection Process
Organizational Document
View
ERDB's Organizational Structure
Organizational Document
View
Chamber of Mines of the Philippines: Secretary's Certificate on PH-EITI Participation and Representation
Organizational Document
View
Chamber of Mines of the Philippines: Membership
Organizational Document
View
Chamber of Mines of the Philippines: Officers
Organizational Document
View
Chamber of Mines of the Philippines: Board of Trustees
Organizational Document
View
Proof of fund transfer - WB Washington through the Bureau of the Treasury
Organizational Document
View
Proof of fund transfer - returned to the Bureau of the Treasury
Organizational Document
View
DOE responses on gaps identified in the 2021 EITI Validation
Organizational Document
View
Confirmation of SC14 and SC14c Contract
Organizational Document
View
Overall extractives tax data TY 2018 - LTS and Non-LTS
Report
View
PH-EITI Annual Progress Reports (2013-2020)
Report
View
Country Reports
Report
View
6th PH-EITI Country Report - Summary Data Template
Report
View
Summary Data Templates (2012-2018)
Report
View
Final Report on SDMP Realignment
Report
View
Civil Society Assessment of the 4th PH-EITI Report
Report
View
Final Report on SDMP Realignment
Report
View
PH-EITI LGU Roadshow - CSO Assessment Report (July - August 2018)
Report
View
Mainstreaming Feasibility Study
Publication
View
Gender Scoping Study
Publication
View
PH-EITI's List of Publications
Publication
View
PH-EITI Impact Study
Publication
View
Bantay Kita - Mining Transparency Index 2017
Publication
View
Bantay Kita - Discussion Paper on Responsible Mining, 2019
Publication
View
Beneficial Ownership Study
Publication
View
NCIP Monitoring Tool
Transparency Tool
View
Contracts Portal
Transparency Tool
View
Extractives Data Generator
Transparency Tool
View
Beneficial Ownership Registry
Transparency Tool
View
PH-EITI Primer (English)
Knowledge Product
View
PH-EITI Report Subnational CSO Assessment Primers 2017
Knowledge Product
View
Bantay Kita - Infographic on CitiNickel Mining from PH-EITI reports
Knowledge Product
View
Bantay Kita - Infographic on Philex Mining from PH-EITI reports
Knowledge Product
View
Bantay Kita - Infographic on Pass the PH-EITI bill
Knowledge Product
View
Bantay Kita - Video: How communities engage in natural resource governance (Tagalog)
Knowledge Product
View
Bantay Kita - How to Open Up Mining Governance? The Experiences of the Indigenous Peoples in Palawan
Knowledge Product
View
Press Release: PH-EITI Workshop on Beneficial Ownership, October 2019
Knowledge Product
View
Bantay Kita - Villanueva pushes for disclosure of beneficial owners of mining companies
Statement on EITI-related matters
View
Bantay Kita - Achieving Compliance Despite the Shifting Political Tides
Statement on EITI-related matters
View
Bantay Kita - Bantay Kita calls for greater transparency in government processes
Statement on EITI-related matters
View
Bantay Kita - BK urges PH-EITI multi-stakeholder group to keep their commitments towards resource management
Statement on EITI-related matters
View
Bantay Kita - CSO Assessment of the 4th PH-EITI Report
Statement on EITI-related matters
View
Bantay Kita - Institutionalizing Community Participation in Minerals Management at the Subnational Level in the Philippines
Statement on EITI-related matters
View
Bantay Kita - Learning Experience from the Cebu EITI MSG localization
Statement on EITI-related matters
View
Bantay Kita - Mining fiscal reforms in TRAIN: Is it enough?
Statement on EITI-related matters
View
Bantay Kita - Philippine Open Contracting in the Mining Sector: Policy and Practices
Statement on EITI-related matters
View
Bantay Kita - Poe files bill to improve access to information of the extractive industries
Statement on EITI-related matters
View
Bantay Kita - Position Paper on Legislative Franchise in Mining Operations
Statement on EITI-related matters
View
Bantay Kita - Position Paper on Short Term Economic Impacts of Closed Mines
Statement on EITI-related matters
View
Bantay Kita - Position Paper on the Philippine Extractive Industries Transparency Initiative
Statement on EITI-related matters
View
Bantay Kita - Proposed Mining Fiscal Regime for TRAIN
Statement on EITI-related matters
View
Bantay Kita - PWYP GA19: Speaking on what matters for local communities
Statement on EITI-related matters
View
Bantay Kita - Responsible Mining: Planet, People, Profit, Policy
Statement on EITI-related matters
View
Bantay Kita - Statement of Support for Fiscal Incentives Reform
Statement on EITI-related matters
View
Bantay Kita - Statement on PH-EITI Validation Results
Statement on EITI-related matters
View
Bantay Kita - Statement on the issued permit for Sagittarius Mines, Inc.
Statement on EITI-related matters
View
Bantay Kita - Toledo, Cebu Open Mining Governance Project
Statement on EITI-related matters
View
Bantay Kita - Water, transparency and mining concerns in the Philippines
Statement on EITI-related matters
View
Bantay Kita calls on DENR to uphold process of public consultations in application for exploration permit
Statement on EITI-related matters
View
Bantay Kita welcomes new civil society representatives to the PH-EITI MSG
Statement on EITI-related matters
View
Cabinet Secretary Karlo Nograles
Statement on EITI-related matters
View
Congressman Joey Salceda
Statement on EITI-related matters
View
Congressman Pantaleon Alvarez
Statement on EITI-related matters
View
DENR Secretary Roy A. Cimatu (1)
Statement on EITI-related matters
View
DENR Secretary Roy A. Cimatu (2)
Statement on EITI-related matters
View
DENR Undersecretary Analiza R. Teh
Statement on EITI-related matters
View
DENR-MGB Director Wilfredo G. Moncano
Statement on EITI-related matters
View
DOF Assistant Secretary Ma Teresa Habitan
Statement on EITI-related matters
View
OceanaGold PH CEO Mick Wilkes
Statement on EITI-related matters
View
Mr. Bonifacio Labatos, Jr., Principal Social Ecology Advisor
Statement on EITI-related matters
View
Mr. Gerard H. Brimo, Chairman of the Chamber of Mines of the Philippines
Statement on EITI-related matters
View
Mr. Reynaldo Dela Rosa, Community Relations Manager, Rio Tuba Nickel Mining Corp.
Statement on EITI-related matters
View
OceanaGold (Phils.), Inc.
Statement on EITI-related matters
View
PH-EITI information and related content in the official website of DENR-MGB
Statement on EITI-related matters
View
PH-EITI information and related content in the official website of DENR-MGB
Statement on EITI-related matters
View
PH-EITI information and related content in the official website of DENR-MGB
Statement on EITI-related matters
View
PH-EITI information and related content in the official website of DENR-MGB
Statement on EITI-related matters
View
PH-EITI information and related content in the official website of DENR-MGB
Statement on EITI-related matters
View
PH-EITI information and related content in the official website of DENR-MGB
Statement on EITI-related matters
View
PH-EITI information and related content in official website of DOE
Statement on EITI-related matters
View
PH-EITI information and related content in official website of the House of Representatives
Statement on EITI-related matters
View
PH-EITI information and related content in official website of the Open Government Partnership PH
Statement on EITI-related matters
View
President Rodrigo Duterte, DOF Secretary Carlos Dominguez, DOE Secretary Alfonso G. Cusi, & DENR-MGB Director Wilfredo G. Moncano
Statement on EITI-related matters
View
Senator Joel Villanueva (1)
Statement on EITI-related matters
View
Senator Joel Villanueva (2)
Statement on EITI-related matters
View
Shell Philippines Exploration B.V. (SPEX)
Statement on EITI-related matters
View
Taganito Mining Corporation, Republic Cement, & Malampaya Foundation
Statement on EITI-related matters
View
Union of Local Authorities of the Philippines President Dakila Carlo Cua - Statement on EITI-related matter
Statement on EITI-related matters
View
PH-EITI Extractives Transparency Week 2020
Activity Documentation
View
Minutes of Meetings
Activity Documentation
View
Documentation of efforts to engage Semirara
Activity Documentation
View
MSG 2019 Year-End Assessment and Planning
Activity Documentation
View
2020 PH-EITI Legislative Advocacy Training and Planning workshop
Activity Documentation
View
A Media Training for Philippine Extractive Industries Transparency Initiative (PH-EITI) Multi-Stakeholder Group Members, October 2017
Activity Documentation
View
Annual Mining Philippines International Conference and Exhibition
Activity Documentation
View
Banta Kita - National Conference 2017 Documentation
Activity Documentation
View
Bantay Kita - Project Open Mining Governance in Rio Tuba, Palawan - reconciliation of royalty data, December 11, 2018
Activity Documentation
View
Bantay Kita - Breaking Barriers: Multi-stakeholder Groups in Responsible Mining Forum
Activity Documentation
View
Bantay Kita - Community Orientation on PH-EITI with Camp 3, Benguet community, March 4, 2020
Activity Documentation
View
Bantay Kita - Community Orientation on PH-EITI with Narra, Palawan community, February 11-13, 2020
Activity Documentation
View
Bantay Kita - IP Women Study Launch, March 16, 2019
Activity Documentation
View
Bantay Kita - Luzon Subnational Consultation of BK members, February 6-7, 2019
Activity Documentation
View
Bantay Kita - National Conference 2018
Activity Documentation
View
Bantay Kita - National Conference 2019
Activity Documentation
View
Bantay Kita - Roundtable Discussion on FPIC process, April 24,=-25, 2019
Activity Documentation
View
Bantay Kita - Subnational Outreach 2017 Baguio
Activity Documentation
View
Bantay Kita - Subnational Outreach 2017 Cebu
Activity Documentation
View
Bantay Kita - Subnational Outreach 2017 Davao
Activity Documentation
View
Bantay Kita - Subnational Outreach 2017 Palawan
Activity Documentation
View
Bantay Kita - Subnational Outreach 2017 Romblon
Activity Documentation
View
Bantay Kita - Subnational Outreach 2017 Tacloban
Activity Documentation
View
Bantay Kita - Subnational Outreach 2017 Zamboanga
Activity Documentation
View
Bantay Kita - Subnational Outreach 2017 Antique
Activity Documentation
View
Bantay Kita - Visayas Subnational Consultation of BK members, February 13=14, 2019
Activity Documentation
View
Chamber of Mines of the Philippines (COMP) Lecture Series 2019
Activity Documentation
View
Chamber of Mines of the Philippines (COMP) Natural Resource Governance 2019
Activity Documentation
View
COMP: Towards Sustainable Mining (TSM) initiative
Activity Documentation
View
ETW: Extractives Data Blitz
Activity Documentation
View
ETW: The Real Owners
Activity Documentation
View
ETW: Webinar on Extractives Governance and Community Development
Activity Documentation
View
PH-EITI Annual Roadshow 2017
Activity Documentation
View
PH-EITI Annual Roadshow 2018
Activity Documentation
View
PH-EITI Extractives Transparency Week 2020
Activity Documentation
View
PH-EITI LGU Roadshow - CSO Assessment Report (July - August 2018)
Activity Documentation
View
PH-EITI National Conference 2017 Proceedings
Activity Documentation
View
PH-EITI National Conference 2018 Proceedings
Activity Documentation
View
PH-EITI National Conference 2019 Proceedings
Activity Documentation
View
PH-EITI National Conference 2020 Live Stream
Activity Documentation
View
PH-EITI National Conference 2020 Highlights
Activity Documentation
View
PH-EITI Online Learning on Extractives 2020 Phase 1
Activity Documentation
View
PH-EITI Online Learning on Extractives 2020 Phase 2
Activity Documentation
View
OnLearn / Roadshow 2020 Video Playback
Activity Documentation
View
Minutes of Meeting - Committee on Natural Resource Hearing on EITI related Bills
Activity Documentation
View
A Media Training for Philippine Extractive Industries
Transparency Initiative (PH-EITI) Multi-Stakeholder Group Members - October 2017
Activity Documentation
View
MSG Webinar on the Sixth Country Report
Activity Documentation
View
Beneficial Ownership and Mainstreaming Workshop - September 2019
Activity Documentation
View
Orientation on EITI BO Disclosure Requirement - Proceedings
Activity Documentation
View
Towards Mainstreaming EITI in Provincial Mining Regulatory Boards - June 2018
Activity Documentation
View
Issues and Concerns Gathered during PH-EITI's
Annual Dialogues with Stakeholders (FY 2015 - 2020)
Activity Documentation
View
Call for views on progress of EITI Implementation
An EITI implementing country for nearly eight years, the Philippines is due for its next Validation against the 2019 EITI Standard on April 1, 2020. In accordance with the Validation process, the EITI International is seeking stakeholder views on the Philippines' progress in implementing the EITI between October 2017 and April 2017. Stakeholders are requested to send their views to the Validation team through Lyydia Kilpi (LKilpi@eiti.org) and Alex Gordy (AGordy@eiti.org) by April 1, 2021.
For details about specific areas of EITI implementation stakeholders are requested to share their views on, kindly click on the following link: bit.ly/eiticallforviews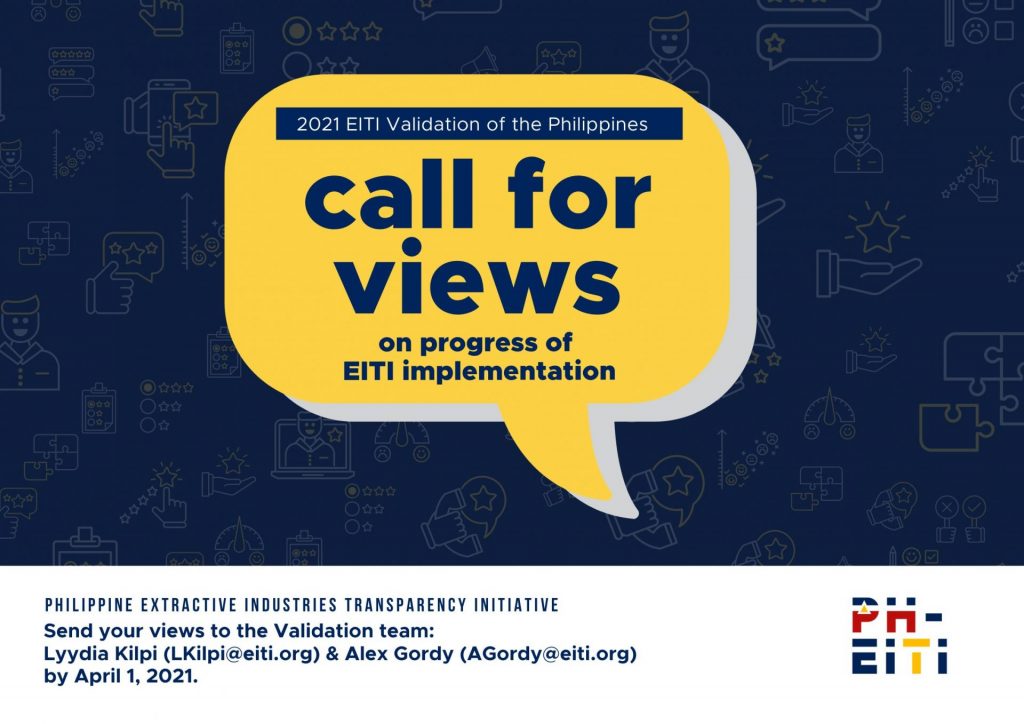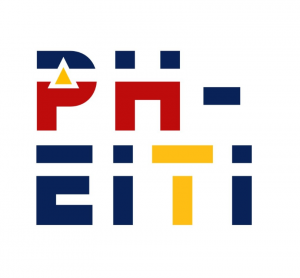 A government-led, multi-stakeholder initiative implementing EITI, the global standard that promotes the open, accountable management, and good governance of oil, gas, and mineral resources. PH-EITI was created on 26 November 2013 through EO No. 147, s. of 2013. It is a government commitment first announced through EO No. 79, s. of 2012.